Fellow affiliate marketers, I've spent more than a decade in this industry. Along the way, I've picked up a number of invaluable lessons (many of which would have been great to have known from the get-go.) Today, I'm sharing with you some of the most important things I've learned, specifically about building trust within your affiliate network.
The most  important thing I've learned is that there's no tool on the planet that can deliver as high of a volume of sales and boost a brand quite as efficiently as affiliate marketing. And yet, there are many publishers and networks out there that find countless ways of taking advantage of the advertisers they work with. While some advertisers are oblivious to having the wool pulled over their eyes, others are keenly aware that fraudsters exist and are therefore slow and resistant to gracing networks with their trust.
Of course, far from all publishers and networks are shady. In fact, many not only have the tools to make advertisers' products sell like gangbusters, they also go the extra mile to see that it happens. While businesses can't afford to work with publishers and networks that don't look out for their best interests, not pursuing the full benefit of working with those that do can be just as costly to a business.
In order to save advertisers from the bitter disappointment of unrealized potential and to keep them operating within your network, building a relationship of trust with advertisers is critical. With the help of some fellow experts from Admitad, I'm going to explain how affiliate marketing networks can build that trust.
Ensure quality traffic and avoid fraud on the network
When it comes to traffic in affiliate marketing, quality matters. More than half of all internet traffic comes from bots. This means advertisers who look strictly at the volume of traffic that publishers and networks bring them won't really understand how well campaigns are performing. In some cases, publishers and networks are complicit in pumping bad traffic on advertisers' pages, mostly through the use of bots.
Advertisers often take it upon themselves to stay vigilant about the quality of traffic that their campaigns receive. When they continually see campaigns receiving a disproportionately high volume of traffic for the amount of conversions coming through, this is a pretty good sign that the traffic is of poor quality. But as Admitad's Head of Traffic Quality Andrey Golomoz understands, the inverse can be just as damning. "If after one month of partnering with a network the traffic to a brand's website isn't increasing, but affiliates are still being paid for clicks or sales, it's a good time to sound the alarm," he says.
Some affiliate networks like Admitad make it their priority to ensure  traffic coming through is actually useful for advertisers. Admitad established a Traffic Quality Control Department in 2017 specifically dedicated to monitoring traffic on its network. Every day, the team meticulously combs through data with the goal of identifying and isolating fakers, traffic violators, cookie stuffers and other defrauding entities. Meticulous data collection gives an affiliate the power to ensure that advertisers' campaigns receive only the highest quality traffic, leading to far superior results in these campaigns.
Encourage transparency throughout the network by providing advertisers detailed and transparent reports
In any kind of relationship, trust is fostered not just by sharing good news and positive results. It's also predicated on being open and forthcoming when things are not going well. In affiliate marketing, this requires operating under full transparency at all times.
At Admitad, we create detailed reports for our advertisers so that they are always able to understand the activity surrounding their campaigns. Admitad's reports include data pertaining to clicks on banners and affiliate links as well as target actions executed by users including sales. These reports enable advertisers to analyze the efficiency of campaigns and also to track the status of sales and other target actions. Reports are updated roughly every 15 to 30 minutes and pertain to a range of topics including ad spaces, programs, actions, time, contextual ads, and more.
In 2017, we published for the first time a comprehensive annual report on the state of affiliate marketing and e-commerce. The report also included a look ahead to what 2018 has in store. Additionally, we have the Admitad Academy, which was established to keep all the key stakeholders in this space up to date about best practices and what's happening in the world of affiliate marketing.
The value of reports and other educational initiatives cannot be understated. They help solidify an affiliate marketing network's standing as experts in this space as well as keep advertisers up to date about the latest developments in affiliate marketing and what's happening in the network. Advertisers will appreciate this more than you realize.
Encourage collaboration with advertisers and publishers
The more you get to know your business partners, the more likely you are to know whether they are fleecing you. Even better, they'll instead be more likely to proactively bring value to your business. At Admitad, we have two kinds of initiatives whose primary focus is to enhance collaboration between advertisers and publishers: Admitad corporate events and a robust referral program.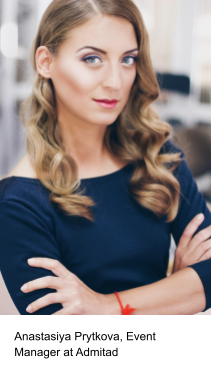 Anastasiya Prytkova, Event Manager at Admitad, says that Admitad corporate events are "an opportunity for publishers and advertisers to get acquainted personally." One major annual event that the company hosts for friends and partners is called Admitad Lounge. Anastasiya says the event is "an opportunity to find new business partners and spend productive time in a circle of like-minded people." Another major annual event is Admitad Expert. Anastasiya describes the event as being designed specifically "for professionals in the field of CPA marketing."
She continues: "At Admitad Expert, publishers and advertisers get an opportunity to meet each other and to establish promising business relationships, communicate with Admitad representatives, and see experts who share real cases."
Affiliate marketing networks who make the effort to build connections between publishers and advertisers will inevitably be handsomely rewarded, above all through an elevated level of trust that business partners feel for the network.
As Anastasiya observes, Admitad not only "has been standing out for many years due to its advanced tracking technologies [and] high quality traffic," but also for "the level of organization of its own corporate events for CPA marketing experts." She's right: Fostering connections between stakeholders and enabling new partnerships are an essential part of why Admitad has been able to grow prodigiously in the last several years.
Another collaboration-building initiative is Admitad's referral program, and here's how it works: After a publisher registers on the Admitad affiliate network, they get a unique referral link to place on their ad space. Users who follow this link are registered in the system as 'referrals' for the publisher for a specified period of time, during which the publisher is rewarded for every referral that comes through. Depending on established terms, the publisher will either be rewarded a flat rate for every referral, or a percentage of the income that come from the referrals. The best news for advertisers is that they don't pay anything for the referral program. The affiliate network pays out the rewards.
Bolster customer retention by creating a loyalty program
 Loyalty programs are very much in vogue these days, with Amazon Prime standing out as one of the most famous examples. There's a reason they are so popular: They work. Admitad's Head of Publishers Anna Gidirim says, "Launching a loyalty program through an affiliate network provides direct access to a huge number of online stores where users can obtain rewards for their actions." Actions can include anything from points, percentage discounts, and cash, with the purpose of providing "new possibilities for your clients, thus increasing the value of your product for them."
The primary goal, then, is not to make money —  not immediately at least. "You have to provide benefit, not only to your customers but also to the store that pays a reward," Gidirim continues. "You have to know how to target your audience in order to, for example, come to a user at the store B and offer them an increased percentage at the store A. Offers are seldom dynamically reorganized for a particular client visiting a website and customized promotions are rarely prepared. But the future belongs to those able to select promotion campaigns faster and better."
Gidirim says building effective loyalty programs requires "a good programmer, an excellent marketing expert, a smart manager, some support resources for the user, and a desire to make your product the best." With those pieces in place, affiliate marketing networks can build loyalty programs that provide enough value customers to keep them customers — for the long haul.
Advertisers are skeptical (and rightly so) when it comes to affiliate marketing. There are publishers who will knowingly take advantage of an advertiser, and sadly, some affiliate networks are complicit in this behavior. It behooves any affiliate network to separate itself from the bad apples.
Building trust for your affiliate network is what one could call "a labor of love," but it is the key to standing out from the crowd. Follow the guidelines outlined here, and in time, you won't have to make great efforts towards being perceived as trustworthy; rather, your reputation will speak for itself.
About Admitad
Admitad is a cost per action (CPA) affiliate network that connects advertisers with publishers across the world to drive sales for advertisers. Among Admitad's affiliates are advertisers such as Lamoda, KupiVip, AliExpress, Booking.com, GearBest, Qatar Airways, ASOS, YOOX, SHOPBOP, Papa John's, L'Etoile, МТS, Delivery Club and others. Admitad works with more than 1,500 advertisers and more than 650,000 publishers, registering in total more than 5,000,000 target visitors per day.